Berlin Art Scene, Tannert Christoph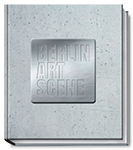 Since the fall of the Wall, Berlin has become a mecca for exceptional artists who have innovative approaches. Today, both up-and-coming and established artists have made Berlin their place of residence.
Who are these creative artists who are working in Berlin as painters, illustrators, sculptors, concept artists, and photographers, and are giving the city the distinction of being the centre of the art world? Christoph Tannert is the exhibition organiser for the Künst­lerhaus Bethanien, a well-known international cultural centre in Berlin, and a man who knows the Berlin art scene well. In this book, Tannert introduces a number of prominent artists he considers to be representative of the two generations of artists working in Berlin. The internationally acclaimed author and curator Mark Gisbourne conducted interviews with the artists that shed light on their artistic production methods. Stefan Pielow, who became well-known through his unique staged photographs, spotlighted each of the artists for this book. The exceptional quality of this photography volume can be seen before even opening the book.
Tannert Christoph, Foto(s) von Pielow Stefan, Interviewer Gisbourne Mark