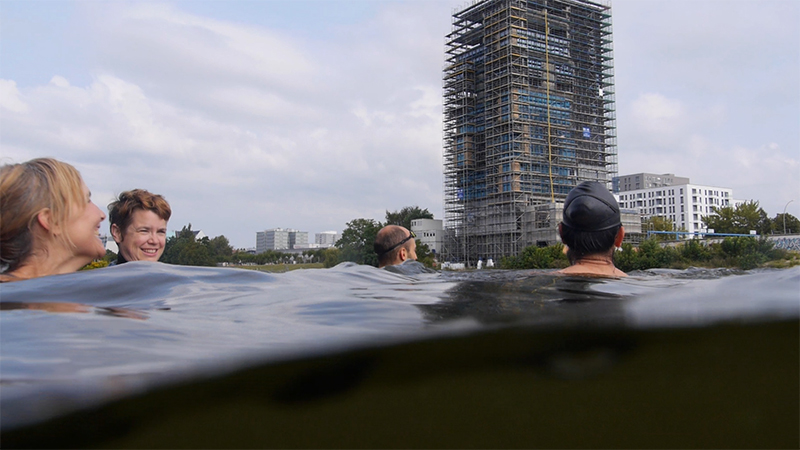 Performance, Videoletter, nGbK, Berlin 2014
The nGbK has organized an exhibition / event weekend as an appreciation of Allan Sekula´s lifework, with an overview of his films, talks about his works and artistic references.

We have participated in a photo-video work, which refers to Allan Sekula's photo-documented action "Dear Bill Gates", for which he swims as close as possible to the dream home of the Microsoft founder. He sends this action photos together with a letter to Bill Gates.
Our interpretation takes us to the former death row on the river Spree, where the historical monument was destroyed for a luxury residential tower and wall sections of the "East Side Gallery" were removed. The 63-meter high and fourteen-storey large-scale investor project Living Levels by Maik Uwe Hinkel is being built against the citizens' decision. This referendum requires a 50 meter wide riverside path and a maximum of 22 meters high houses. We swim from the other shore as close as possible to the Living Levels. The water police, the cruising tourist steamer and a dead eel, however, keep us from swimming through the river. As a result we made a videoletter to the investor.
Working with Allan Sekula was organized by Jochen Becker, Elke Falat, Branka Pavlovic, Renate Wöhrer and Florian Wüst.
Musik: Stefan Langfeld
Stimme: Lina Krüger